Jamstik Creator sound expansion packs can be downloaded from the Jamstik Store. These packs add new sampler instruments and/or new presets for the Jamstik Creator Plugin. Here is how to install the sound packs:
1. Ensure your Jamstik Creator and Sound Library are up to date. Either check your email for the latest Jamstik Creator version, update through the pop-up in the Jamstik Creator app, or re-order and download the Jamstik Creator on Shopify.
Once downloaded, make sure that you run the Jamstik Creator installer and the Update Sound Library installer.
2. Download the Sound Expansion pack from Shopify, once downloaded the file should appear as a .jspack file.
3. Open the Jamstik Creator standalone app and drag the .jspack onto an active Jamstik Creator standalone window.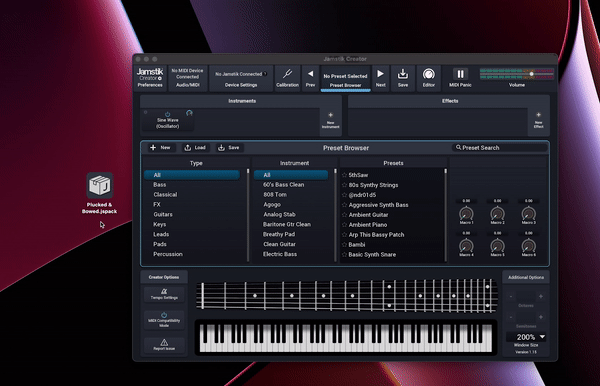 That's it! your sound pack should now be installed and the new sampler instruments will appear in the Sampler Browser and the new presets will appear in a preset category with the name of the sound expansion pack.