*Note: The portable 5-fret Jamstik+, Jamstik 7, and Jamstik GT controllers do not need to be physically tuned.
Tuning the Jamstik MIDI Guitars
Your MIDI guitar may need to be tuned upon shipment, and subsequently over time. Tuning is critical for optimal MIDI performance, and we recommend checking your guitar before each use for best tracking results!

Jamstik Classic MIDI Guitar (Headstock Model)

Turn tuning heads counterclockwise to raise the pitch and clockwise to lower the pitch. Repeat this process for each string until all strings are in tune.

Jamstik Studio MIDI Guitar (Headless Model)
Your guitar is tuned at the bridge rather than the headstock.
Use the built-in tuning handle at the bridge to rotate the tuners up to correct tension.
*Remember to store it back in its compartment, it will magnetically attach!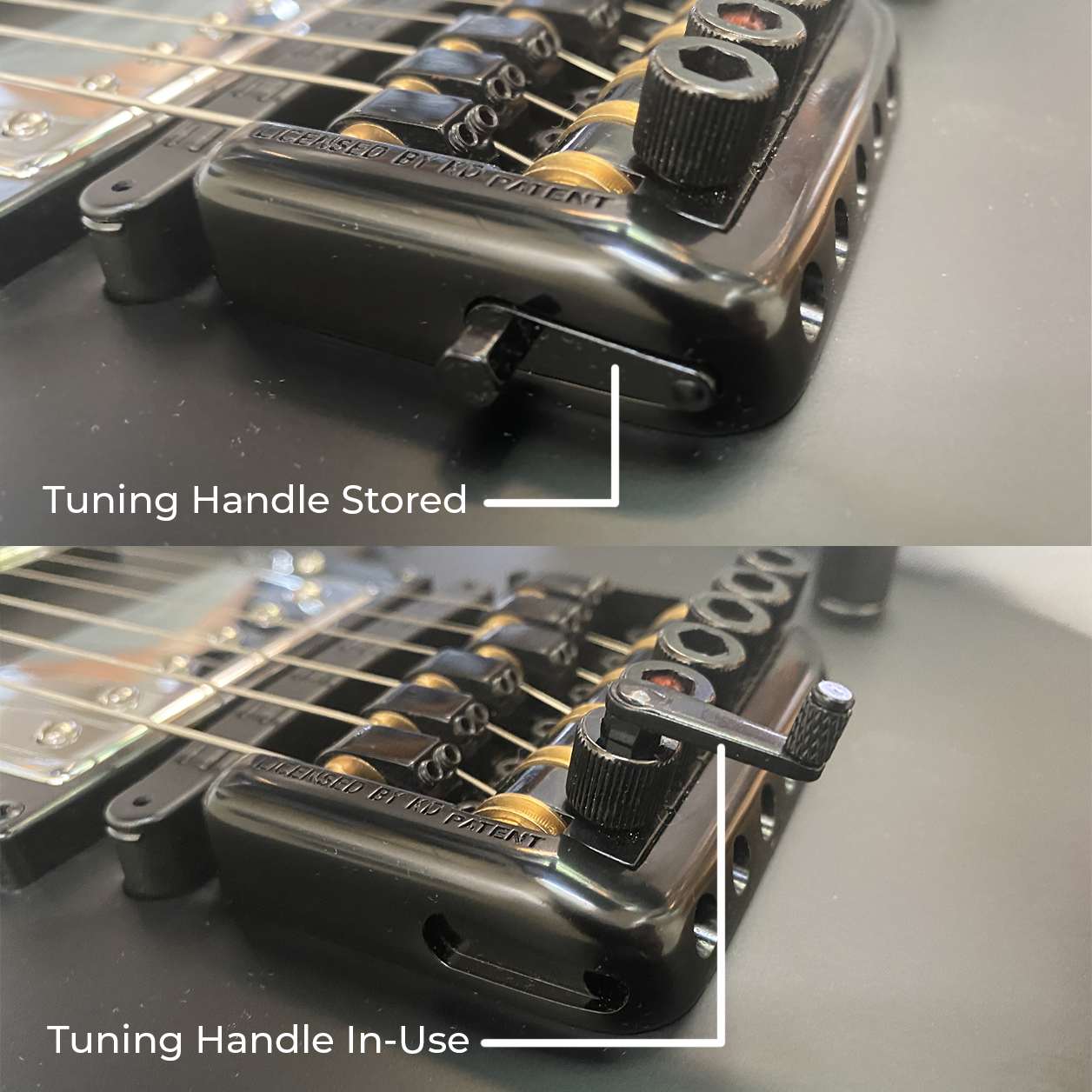 You may use any guitar tuner or tuning app you wish with the analog audio source.
You can also tune through a USB-C MIDI connection using the built-in tuner in the Calibration menu of the Jamstik Creator Software. Make sure your Device Settings are set to MPE Mode and Pitch Bend Send is active. Then, strum your guitar and tune with the provided tuner visual feedback.
Can I put it in alternate tunings and different string gauges? Will it track those accurately as well?

In general, whatever physical tuning the guitar is at will dictate the MIDI pitch. So, you can set any tuning you like. However, at very low tunings there may be some performance degradation.

If playing in alternate tunings, make sure to adjust your tuning settings within Jamstik Creator.

Any metal strings will work just fine—The MIDI pickup is magnetic, so the guitar requires you to use metal strings rather than nylon. We'd recommend following standard .010–.046 gauges. Slightly below or above this range is acceptable, but may require some sensitivity adjustments within the Jamstik Creator plugin.
Have you lost your tuning handle? We have replacements available on our website. You can also use a 5mm or 13/64'' hex / allen wrench to rotate your tuners.
Recommended Related Articles:
-Adjusting String Height for Optimal Performance on the Jamstik Studio MIDI Guitar.
-Restringing the Studio MIDI Guitar