Jamstik MIDI Guitars LED Indicator Lights
There are two status LEDs on the Jamstik MIDI Guitars, the charging status LED next to the USB-C port and the general status LED built into the push-button.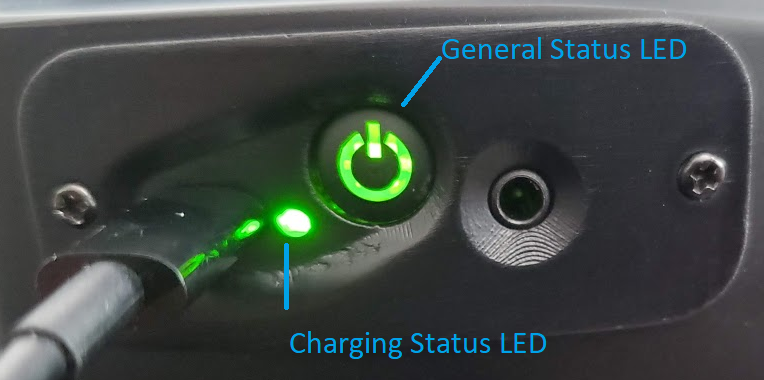 Charging Status LED
The charging status LED can display the following:
| | |
| --- | --- |
| Off | USB not plugged in |
| Green | USB plugged in, battery fully charged |
| Orange (Red+Green) | Charging in progress |
| Red | Charging fault |
General Status LED
LED Sequence
Meaning
Green 500ms, Off 500ms
Ready to connect
Green 500ms, Orange 500ms
Ready to connect, battery low
Solid Green
Connected to USB or Bluetooth
Green fading in and out over 4s;
Orange fading in and out over 2s
Connected, battery low
Orange fading in and out
Internal Diagnostics Check*
Off
Standby mode (lowest battery usage)

*Note: During the initial boot-up sequence the Jamstik Studio performs an Internal Diagnostics Check which may include a String Tuning test. If the Orange LED status continues for more than a couple of seconds after turning on, make sure to tune each string. Once tuned, strum all six strings in order for it to pass the initial diagnostics check, and then the LED will turn Green. The String Tuning test is only performed during the initial boot-up sequence from the factory or after removing/replacing the battery. In the event that you have tuned each string and strummed all six strings and the Orange LED persists, please submit a support request via our Help Center or by sending us an e-mail at support@zivix.net
Jamstik+ LED Meanings
The jamstik+ goes through a series of events during the start-up procedure. Here is a simple infographic to let you know what's going on!
The RED light is used when the jamstik+ is programming or validating data. You'll also see it if you do a hard reset (holding the power button for 30 seconds until flashing red).
The Amber light will pulse when the jamstik+ is looking for a device to connect to and is discoverable by your device(s).
The Green light indicates you are connected! With a solid green, you are connected to a mobile device (such as iPad) via Bluetooth. If the LED is blinking green, you are connected through USB.
Flashing Red and Green means that your battery is low. Use a Micro-USB to USB cable (one is included) to charge your jamstik+ battery via a USB port or wall charger.
NOTE: After a firmware update, the first reboot of your jamstik+ will take up to 30 seconds before advertisement - the new firmware is being programmed.