How to connect the Jamstik to Mac via Bluetooth or USB
If you want to play your Jamstik with the Learning Portal for Jamstik on web on Mac or your DAW you can conveniently connect using the supplied USB cable, or wirelessly via Bluetooth.
Video Instructions
Step-by-step Instructions:
First, make sure that your Jamstik is powered on.
If you wish to connect via USB, your Mac should automatically detect your Jamstik and you are ready to go. For Bluetooth connection, follow the step-by-step instructions below.
With Bluetooth turned on, launch the Audio MIDI setup application from within your Utilities folder, or hit on CMD + space to open the spotlight and search for the Audio MIDI Setup application.
The icon will look like this:

If not already visible, select 'Show MIDI Studio' from the Window drop-down menu.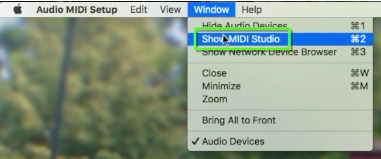 The MIDI studio pane has been reorganized from previous versions. Resize the pane to see all of the options. To do this, drag the right bottom corner of the page until the Bluetooth icon is visible in the MIDI studio top bar.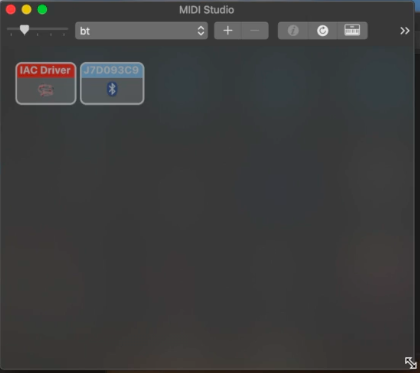 Then click the Bluetooth icon and the familiar Bluetooth configuration will pop up.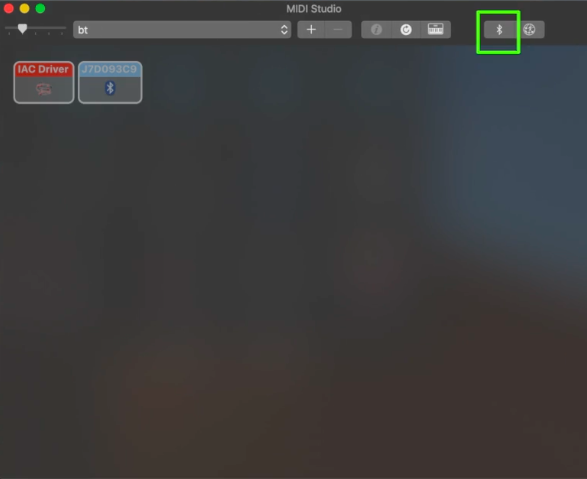 The Jamstiks have an 8 digit ID. Select your ID, then select 'Connect'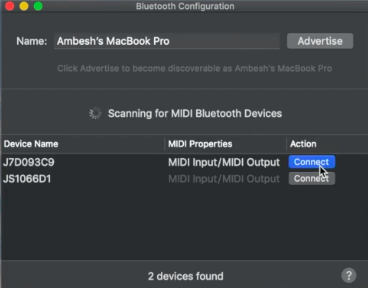 Once connected, your Jamstik will either:
The Jamstik+ indicator light will turn solid green.
The Jamstik 7 and GT indicator lights will pulse green slowly.
The Jamstik Studio MIDI Guitar indicator light will turn solid green.
Another indicator to show you have properly connected is to check the Bluetooth discovery pane—it should change the 'Connect' button to 'Disconnect'.

Your Jamsitk is now connected and ready to be used in the Learning Portal for Jamstik on web, the Jamstik Creator Plugin, or in your favorite DAW!
Visit our DAW Setup Guides for more help connecting to your DAW.
Other Ways to Connect
MIDI-Out can be handled in a variety of ways, either wired through USB cable, wirelessly via Bluetooth, or if you're using the Jamstik Studio MIDI guitar, via 3.5mm TRS-MIDI cable.
iOS Connection
TRS-MIDI Connection