Traditionally, if you wanted to make adjustments to string action near the nut you would have to get a nut built to meet your specifications and have it installed by a skilled guitar builder, however, with the adjustable nut on the Jamstik Studio you are able to raise and lower the nut using an Allen Key.

Please note that it is not required to make any adjustments to the string action on the Jamstik Studio out of the box, this tutorial is a resource for those that want to modify the stock set up to suit personal preference. Also, note that making any adjustments to string action either at the nut (or at the bridge) will require inspecting the string height from the MIDI pickup to ensure that the 1mm string height has been maintained for optimal MIDI performance.

Tools Needed:

-Allen Key (Provided in Gig Bag)
-1mm Guitar Pick (Provided in Gig Bag)

1. Before making an adjustment to the nut, consider which way you want to go with the adjustment.
If raising the nut: loosen the strings to accommodate for the change in string tension. (turn clockwise)
If lowering the nut: an adjustment to string tension is not required. (turn counter-clockwise)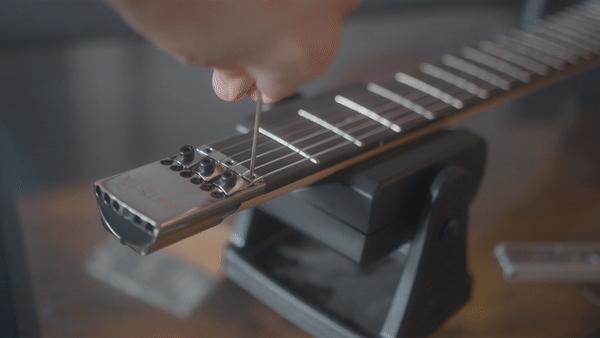 2. Make incremental (quarter-half turn) adjustments and apply each adjustment to all 3 of the hex screws as needed

3. Repeat step 2 until the desired nut height has been achieved. We recommend making small adjustments and checking periodically to avoid overshooting your target string action.

Note: Once completed; re-tune the guitar & check the string height from the MIDI pickup to ensure that optimal 1mm string height has been maintained after the adjustment, use the provided 1mm Jamstik Studio pick as a reference.

See this article for further information on setting string height at the bridge & how to check string height: link