Your Jamstik Model (Jamstik 7, Jamstik GT, and Jamstik+)
Jamstik 7 | Jamstik GT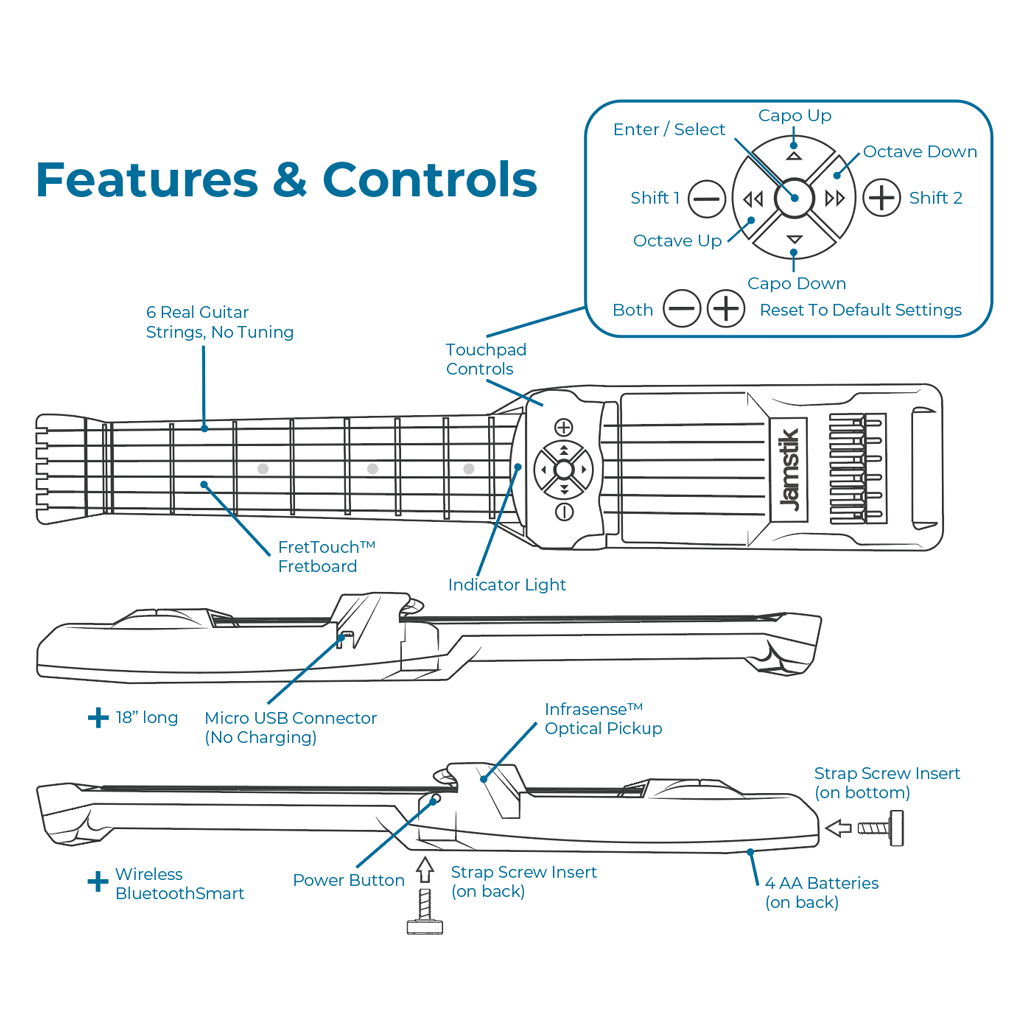 Jamstik +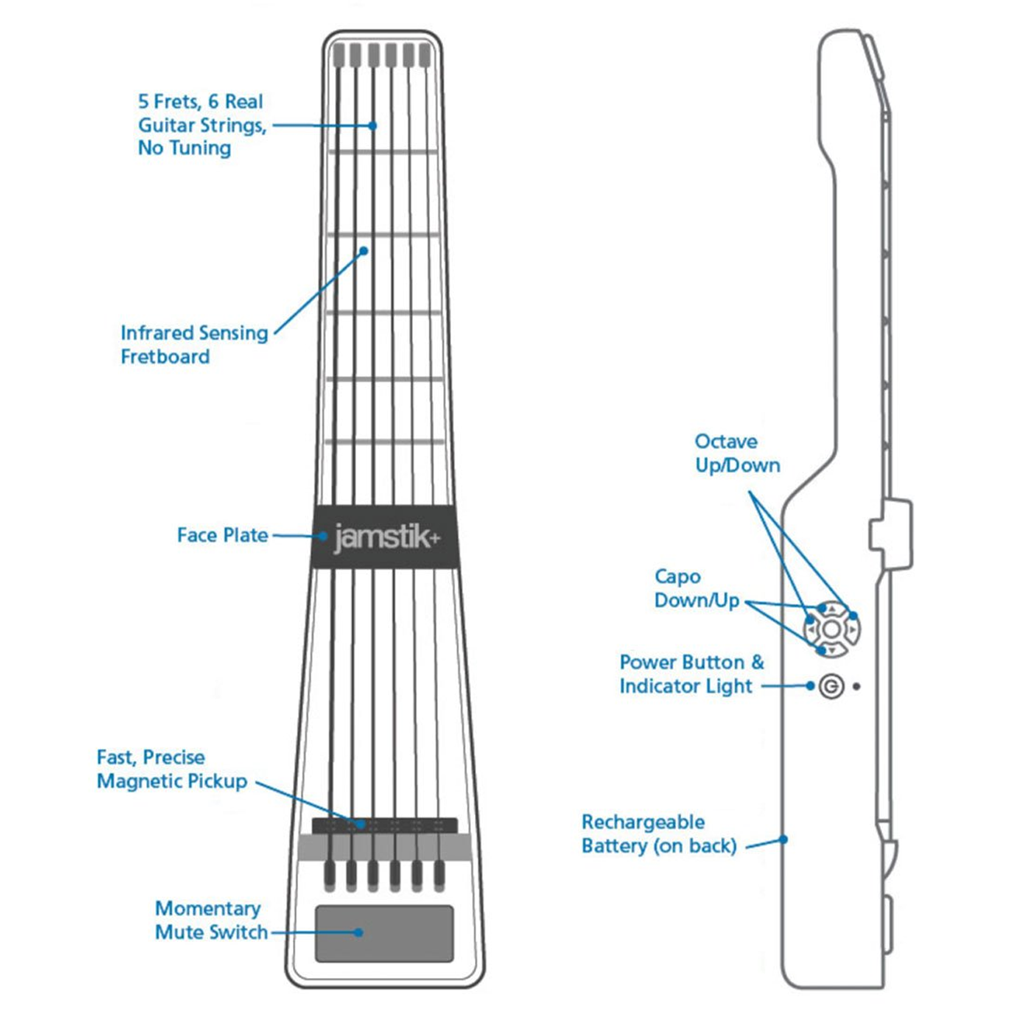 Connection
The following connection tutorials are made for the Jamstik GT so you may notice slight differences in the hardware specifically power button placement and USB port both of which can be located in the diagrams above. Know that for a Jamstik+ model, the power indicator light is located above the power button rather than over the strings.
Software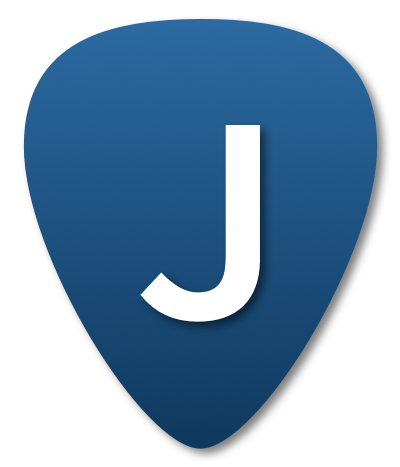 Jamstik Portal (Chrome Mac/PC)
The Jamstik portal is your home for Jamstik firmware updates as well as interactive lessons on how to play guitar with your Jamstik including our new scrolling tab mode that lets you play along with exercises and songs with real-time feedback. Get started at www.play.jamstik.com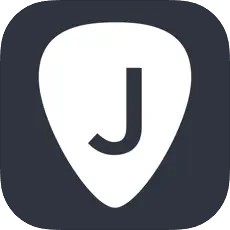 Jamstik Control iOS
Jamstik Control is the mobile companion app for Jamstik MIDI guitars. You can connect your Jamstik to your iOS device over Bluetooth MIDI or USB, change device settings and pin your frequently used settings, tune your Studio MIDI guitar with the software tuner and more. Download it on the iOS app store.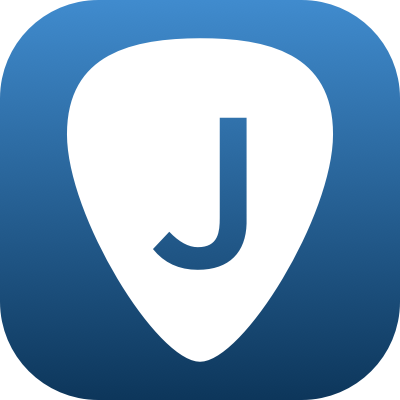 Jamstik Portal iOS
Also check out our Portal app for iOS that lets you play, learn, connect, and create on the go! Your progress is saved between chrome and iOS. Click the icon above or click here to go to the app store.
Your Jamstik is a Bluetooth MIDI controller that is compatible with a wide range of learning and music production apps and plugins. Visit play.jamstik.com/apps to learn about some of our favorite free and paid software to use with the Jamstik.
For guides on setting up the Jamstik with a DAW (Digital Audio Workstation) like Ableton, Logic Pro, GarageBand (iOS/Mac), Pro Tools, FL Studio, and more - visit our DAW Setup Tutorials.
Quick Tips
If your Jamstik is out of tune or gets a stuck note, perform a soft-reset by pressing both (+) & (-) buttons simultaneously.
If your LED is blinking Red & Green, this indicates a low battery, and your AA batteries should be replaced. Always use wired headphones or speakers for the best performance.
Keep your fingers away from the fretboard during power-up. If your strings feel loose, tighten them up with the included Allen wrench. Make sure not to compress the springs all the way.
Your Jamstik has a built-in sleep timer, so you'll have to "wake up" the fretboard after 2 minutes, or turn the power back on after 15 minutes of inactivity.
Wireless headphones & speakers cause a delay. Always use wired audio output from your connected device for the best playing experience.
Troubleshooting
View the Jamstik GT Troubleshooting Index for information that may help you with your legacy Jamstik model.
Visit our blog for new tutorials and ideas for how to use your Jamstik.
Have a support question right away? Check out the Jamstik Support page for other setup questions. There are many useful articles there, and our team members are on hand to discuss any questions via live chat, email, or over the phone.