How to use the TRS-MIDI adaptor with the Jamstik Studio to control MIDI hardware.
Included with your Jamstik Studio is a 3.5mm TRS-MIDI adaptor. This can be used in conjunction with a standard 5 pin MIDI cable to control hardware keyboards or anything with a 5 pin MIDI in. If the particular piece of hardware you're trying to control has a 3.5mm MIDI input, no need to use an adapter, simply use any 3.5mm TRS aux cable.
Video Instructions
Troubleshooting tip: If you're noticing unusual note decays or issues with polyphony, make sure to check which MIDI mode your guitar is set to in the Jamstik Creator (or Learning Portal for Jamstik) device settings menu. If it's in 'MPE', switch to 'Single Channel' and turn off 'String Envelope Send' (Expression Tracking Send in some versions of the Jamstik Creator).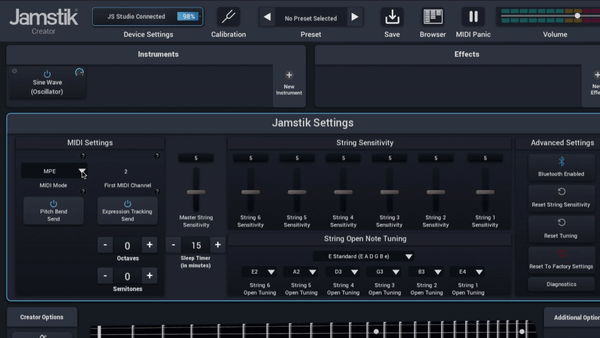 DEMOS:
Jamstik Studio controlling KORG's Electribe Sampler 2 groove box:
This particular groove box has a 3.5mm TRS-MIDI input, so you do not need to use the TRS-5-Pin MIDI adapter cable included with your Jamstik Studio—you can simply use an aux cable. Yes, just a standard aux cord you'd find on a pair of Studio headphones or used to connect a device to a speaker.
Jamstik Studio controlling Roland Juno:
Jamstik Studio controlling KORG's Volca Keys: