Getting Started with the Jamstik MIDI Guitars
Quick Notes
Your Jamstik MIDI Guitar should arrive lower than standard tuning. Your guitar must be tuned to standard (EADGBe) for proper MIDI pickup usage in default settings (you can change to alternate tunings in Jamstik Creator, Jamstik Control, or Learning Portal for Jamstik apps). Read our article on Tuning: How to Tune the Jamstik MIDI Guitars for detailed tuning instructions.
Your Studio MIDI Guitar may arrive in "battery-lock" mode for best battery safety and life. Because of this, you may need to plug your Jamstik via USB into a wall adapter or powered USB port for a short time before the Jamstik will turn on.
If using a third-party USB cable for connection, please ensure the USB cable is data-enabled. For example, a Mac USB-C charging cable will not transfer MIDI data. If you are having issues with connection, first make sure to test with the included USB cable and, if necessary, the included USB-C adapter.
Downloading Software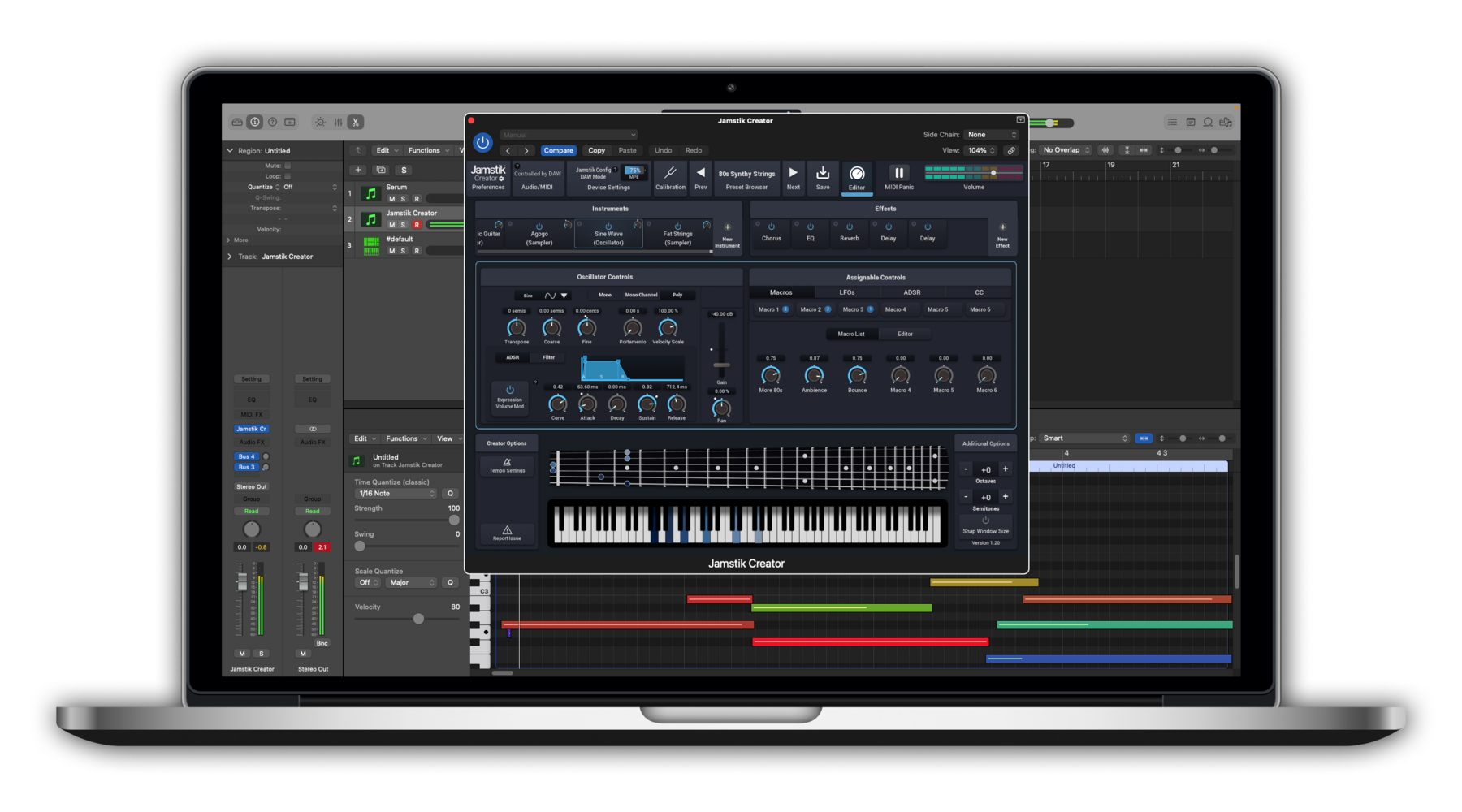 Jamstik Creator (Windows/Mac + VST3/AuV3/AAX)
Change your Jamstik's settings like pitch bend range, string envelope mapping, MIDI/MPE mode, sensitivity and more.
Tune your Jamstik over USB, no microphone required, in the tuning/calibration menu.
Use your Jamstik to play and record (as a plugin in your DAW) over 100 presets using our built-in-house hybrid synthesizer featuring MPE-enabled presets built specifically for the Jamstik Studio MIDI Guitar.
The Jamstik Creator is available as a complimentary download for all Jamstik Studio MIDI Guitar customers.
Download Jamstik Creator for Mac/Windows
We recommend following along with the Jamstik Creator Quick Start Guide during the download and installation process to best jump-start your experience as well as learn about the advanced features of Jamstik Creator.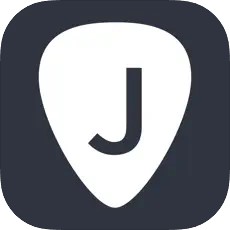 Jamstik Control iOS/Android
Jamstik Control is the mobile companion app for Jamstik MIDI guitars. You can connect your Jamstik to your iOS device over Bluetooth MIDI or USB, change device settings and pin your frequently used settings, tune your MIDI guitar with the software tuner, and more.
Connection
The connection process differs between devices. For detailed information, visit one of our device-specific support articles below.
Compatible Software & DAW Setup
The Jamstik was built to be a plug-and-play, fully functional MPE MIDI controller, and it's compatible with most desktop DAWs (Digital Audio Workstation) as a MIDI instrument. Below you will find guides for the best experience in your DAW.
Hardware Adjustments
Tuning
Your guitar may need to be tuned upon shipment, and subsequently over time. Tuning is critical for optimal MIDI performance, and we recommend checking your guitar before each use for best results.
To tune the Jamstik, use the attached tuning handle—it's located next to the tuners at the bridge of the guitar, instead of the headstock where you might tune other guitars. For more information, visit our full article on tuning.
Individual String Height Adjustment
If you are experiencing missed notes or a large number of artifacts or limited velocities over MIDI that isn't solved with sensitivity adjustments in Jamstik Creator, you may need to adjust your guitar's string heights so that they are approx 1-2mm away from the MIDI pickup. The tools are provided for you in the box, and full guides are found in our article for Adjusting String Height for Optimal Performance on the Jamstik Studio MIDI Guitar.
Truss Rod and Nut Adjustment
If strings buzz or are too high off of the fretboard, your guitar's action may be too high or too low and can be adjusted through the truss rod or nut. This should not be a required adjustment out of the box, but can be helpful after changes in season/climate and temperature. For more information and instructions visit our full article on Adjusting the Truss Rod on the Jamstik Studio MIDI Guitar and our article on How to Set String Action using the Adjustable Nut on the Jamstik Studio MIDI Guitar.
Restringing The Guitar
Because of the guitar's headless design, the process for restringing might be slightly different than what you're used to; but don't worry, it's quite simple! The MIDI pickup is magnetic, so the guitar requires you to use metal strings rather than nylon. We'd recommend following standard .010–.046 gauges. Your Jamstik will come with fresh strings right out of the factory, but when it comes time to change them, check out the instructions on restringing your guitar here.
Important Quick Tips
For best performance, fully charge the Jamstik before first powering on using any 2.0A or above USB-A wall charger or a powered USB-A port on your computer.

If using a third-party USB cable for connection, please ensure the USB cable is data-enabled. For example, a Mac USB-C charging cable will not transfer MIDI data.

Wireless headphones & speakers cause a delay. Always use wired audio output from your connected device for the best playing experience.

Lower the Buffer Rate in your DAW - Latency is one of the biggest barriers in getting MIDI devices to perform the way you want them to. Make sure that your device and software are set to the most responsive settings. You should also close any other software programs on your device that may be running in the background.
Explore the world of Compatible Apps and Software - There are so many great DAWs, Plugins, and Apps that have amazing synthesizers, drum samples, and other sounds that work fantastic with the Jamstik. We encourage you to explore some of our favorites featured on the blog.
Pickup height and proper tuning are essential for optimal MIDI performance with the Jamstik.
Proper tuning is essential for optimal MIDI performance with the Jamstik. The Jamstik is able to accept alternate tunings as low as C Standard tuning (C-F-A#-D#-G-C).
The 3.5mm jack on your guitar is for TRS-MIDI messages only and will not output audio into speakers or headphones.

If MIDI output is not behaving as expected, make sure you are matching Pitch Bend Range and MIDI Channel Mode with your Jamstik and external software/hardware. You may also want to change your Jamstik's String Envelope Mapping or disable String Envelope Send if you are getting unwanted MIDI distortion or other extra signals.

If you are experiencing excess noise from the analog output when connected via USB, you can use a USB noise isolator when connecting both ports simultaneously.
Further Setup, Tutorials, & Troubleshooting
View the Jamstik Studio MIDI Guitar Troubleshooting Index for more.
Visit our blog for new tutorials and ideas for how to use your Jamstik.
Have a support question right away? Check out the Jamstik Support page for other setup questions. There are many useful articles there, and our team members are on hand to discuss any questions via live chat, email, or over the phone.
Environmental Compliance Statement | Jamstik Studio MIDI Guitar Declaration of Conformity | EU Compliance (Tested and approved in compliance with FCC, CE, RCM Standards)