If you have an iPad or iPhone with LTE or cellular coverage, you can stay connected to the jamstik via WiFi while retaining your cellular coverage to download apps, stream music, or browse the internet, without having to switch wifi networks constantly.
*This method is currently in beta-testing, but proves fairly reliable and is a one-time operation if you follow the rules correctly.
Step 1. Connect your jamstik over Wifi as usual.
Step 2. While in Settings>Wifi - Click on your jamstik network name, in this case, "MyJamstik8F16".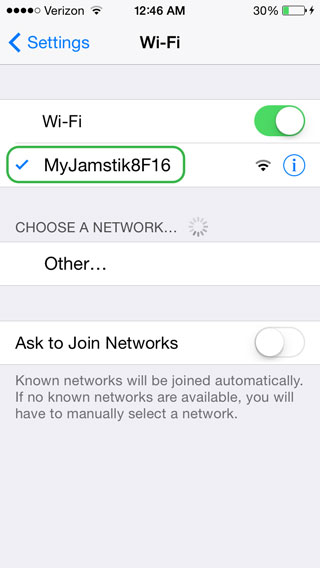 Step 3. This will display your network details. Notice the highlighted fields.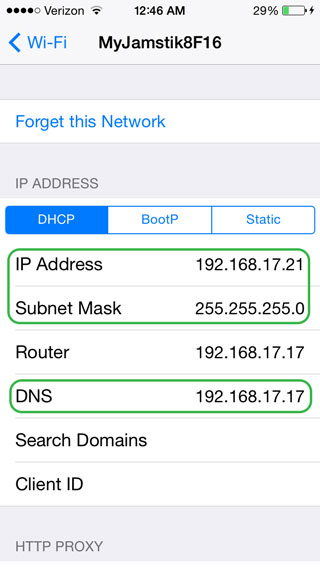 Step 4. Write down the values for the IP Address, Subnet Mask, and DNS fields in a notebook, or type them up in a word processor for quick reference.
Step 5. Now, Click on, "Static" as highlighted in the following image.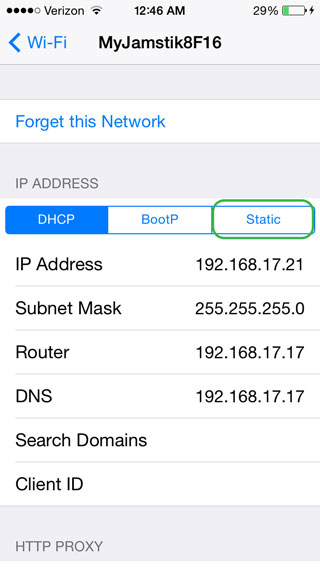 Step 6: You will now see, "Static IP Address" settings, which will be blank. Reference the Values for IP address, Subnet Mask, and DNS fields that you noted earlier, and enter them into their respective fields; while leaving, "Router" blank.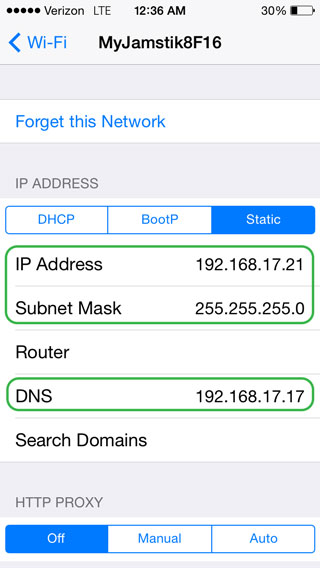 Step 7. Now just click the, "Wi-Fi" Back button to return to regular Wi-Fi settings and save the new Static IP connection you have set up.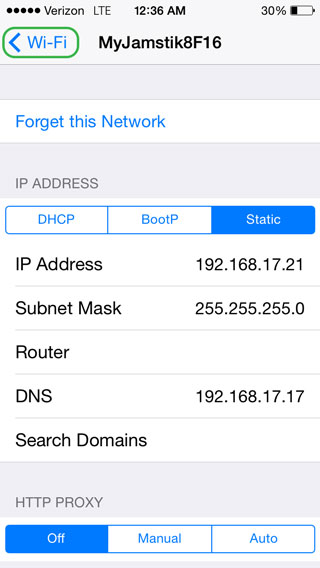 Step 8. Your jamstik will disconnect from Jamstik Connect, but will soon automatically reconnect to the newly created static connection. You are now finished with adjusting your connection settings.
Step 9. With a static IP WiFi connection to the jamstik, your mobile device will begin search for an alternate connection; resulting in cellular coverage resuming within a few moments. You are now free to play your jamstik while using your device as usual with full internet and cellular connectivity!
Important Notes:
Your jamstik will remember these static settings from now on unless you do the following things:
a. Switch back to DHCP address
b. Forget your Jamstik Network
Either of these actions will result in requiring you to follow these steps again by manually entering the IP values.
*Disclaimer - Some cellular networks may treat these settings differently, and we cannot claim to support every provider. Adjust these settings at your own risk. Realize that using cellular coverage will use data bandwidth which you are responsible for.